The… feet??
I am iftlover (Italian Foot Lover, he/him) and I think that beautiful female bare feet are extremely sexy: not only are they beautifully shaped and attractive, but they also add something special to the natural beauty of a woman.
Goals
This free site is dedicated to female beauty, with a particular focus on bare feet and that special beauty and attractiveness they can trigger.
I strive to treat this subject with the good taste it deserves: in fact, many other websites use it only on the pretext of showing unjustified hardcore nudity, thus wrongly implying that a foot fetish is a hardcore practice. Well, surprise surprise, it is not!
In fact, through this site I would like to convey the message that having a foot fetish is perfectly normal, as I see that there is still some level of misconception around here.
Finally, and I cannot stress this enough, no minors are or will ever be involved here!
Trivia
I started this project in late 1998 (duh!) with a website on Geocities (remember that? If so: "I was there, 3000 years ago…"), which I moved to its own domain www.barefoot-girls.net in 2004. After many years of shared hosting, I decided to get my own server starting from 2019.
Through all these years I have been updating the site, with inevitable ups and downs: there is no fancy business or company behind, it's just me doing this in my spare time, sharing this passion with other fellow female feet lovers.
The author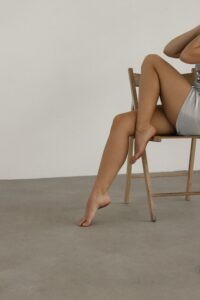 Nickname: iftlover (Italian Foot Lover)
Also known as: theposelover
Location & Age: Italy, 40-45
Occupation: R&D area
I have had this passion for barefoot girls since I was much younger, and only in 1996 I discovered (thanks to the Internet) that there were lots of other people with a similar interest! Sounds like your own experience?
Image credits: pexels.com (Nuta Sorokina)